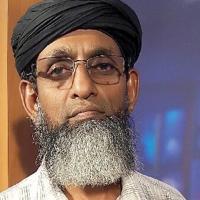 The leader of the "first wave" charged | Local News
LEADER of the first wave movement, Umar Abdullah, is the only person charged of 12 people arrested during Sunday's anti-vaccine march around Queen Park Savannah, Port of Spain.
Speaking to the Express by phone yesterday, Abdullah said he was charged with 'leading a march around Queen's Park Savannah without permission from the Agricultural Police Commissioner'.
He said the other 11 people arrested were released from St Clair police station between 4pm and 4.30pm on Sunday.
He complained, however, that they had tried to seek permission by emailing Farm Police Commissioner McDonald Jacob their request last week.
He said the email bounced, after which he contacted a senior officer in the Port of Spain division and asked him to forward their request in the form of a letter to Jacob.
He said the officer refused, after which he asked him for a "working" email address for the agricultural CoP, but until Sunday he had not replied.
Accusing police of entrapment, Abdullah said none of the officers he spoke to ever called him to let him know Sunday's march was not permitted.
Shortly before 2 p.m. on Sunday, officers from the Guard and Emergency Branch used tear gas to disperse a crowd after about half of the roughly 300 protesters left when told to do so by police.
Earlier in the day, around 10 a.m., they gathered in front of TGI Friday, after which the majority marched around the savannah led by Abdullah.
During the quarter stage of the march, the police arrested Abdullah and took him to St Clair police station and the march continued.
The crowd then gathered where they had first met.
The police at the scene then started asking people to leave and some complied.
Others didn't, and then the police started ordering them to leave. Further left but several held firm.
Officers from the Guard and the Emergency Branch then arrived and formed a wall and began to move towards the protesters, but as they got closer some of the protesters began to insult the police while d others started throwing empty plastic water bottles at them.
This was followed by four tear gas canisters being fired into the crowd first and then near them which ended the protest.