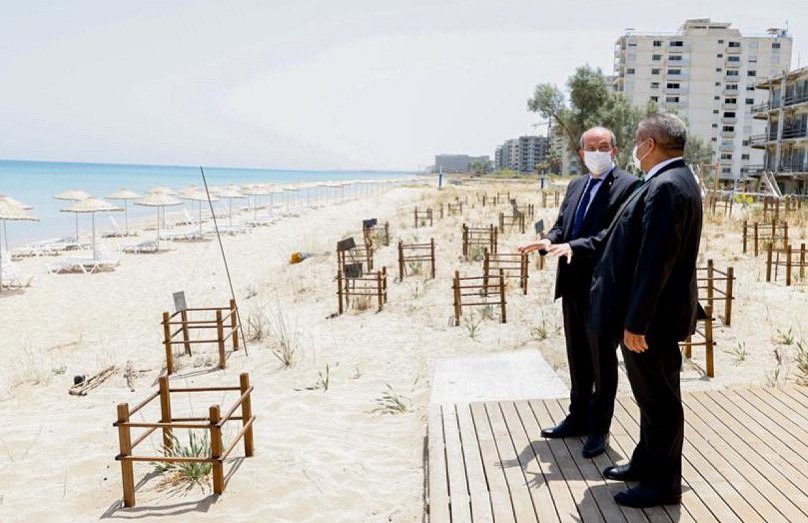 France, Israel express support for Cyprus in light of latest Turkish measures (Update)
French Foreign Minister Jean-Yves Le Drian expressed his support for Cyprus on Wednesday after a decision to Turkish Cypriot authorities to partially reopen abandoned town for a potential resettlement, which had drawn strong reprimands from rival Greek Cypriots.
Le Drian said he discussed the issue on July 20 with his Cypriot counterpart and would bring the matter up at the United Nations.
The town in question, Varosha, has been deserted since a 1974 war divided the island. The Greek Cypriots fear that Turkey intends to appropriate it. Cypriot President Nicos Anastasiades called the decision "illegal and unacceptable".
Israel also expressed deep concern over unilateral Turkish actions and statements regarding Varosha, and reiterated its solidarity and full support for Cyprus.
A press release, posted on Twitter by Israel's Foreign Ministry spokesperson, says Foreign Minister Yair Lapid reiterated this support and solidarity directly to Cypriot Foreign Minister Nikos Christodoulides.
"Israel is following with deep concern recent Turkish unilateral actions and declarations regarding the status of Varosha" and "reiterates its solidarity and full support for Cyprus," the press release noted.
The US, EU and UK all condemned the move on Tuesday night. A statement by US Secretary of State Antoy Blinken said the move was clearly inconsistent with United Nations Security Council Resolutions 550 and 789, which explicitly call for Varosha to be administered by the United Nations.
"The United States is working with like-minded partners to refer this worrying situation to the UN Security Council and will call for a firm response," Blinken said.
"We stress the importance of avoiding provocative unilateral actions which increase tensions on the island and hamper efforts to resume talks on the Cyprus settlement in accordance with UN Security Council resolutions. We remain in favor of a comprehensive Cypriot-led settlement to reunite the island into a bi-zonal, bi-communal federation for the benefit of all Cypriots and the region at large ".
Similar sentiments were expressed by the EU and the UK.
Moscow has not made any statement on the matter.