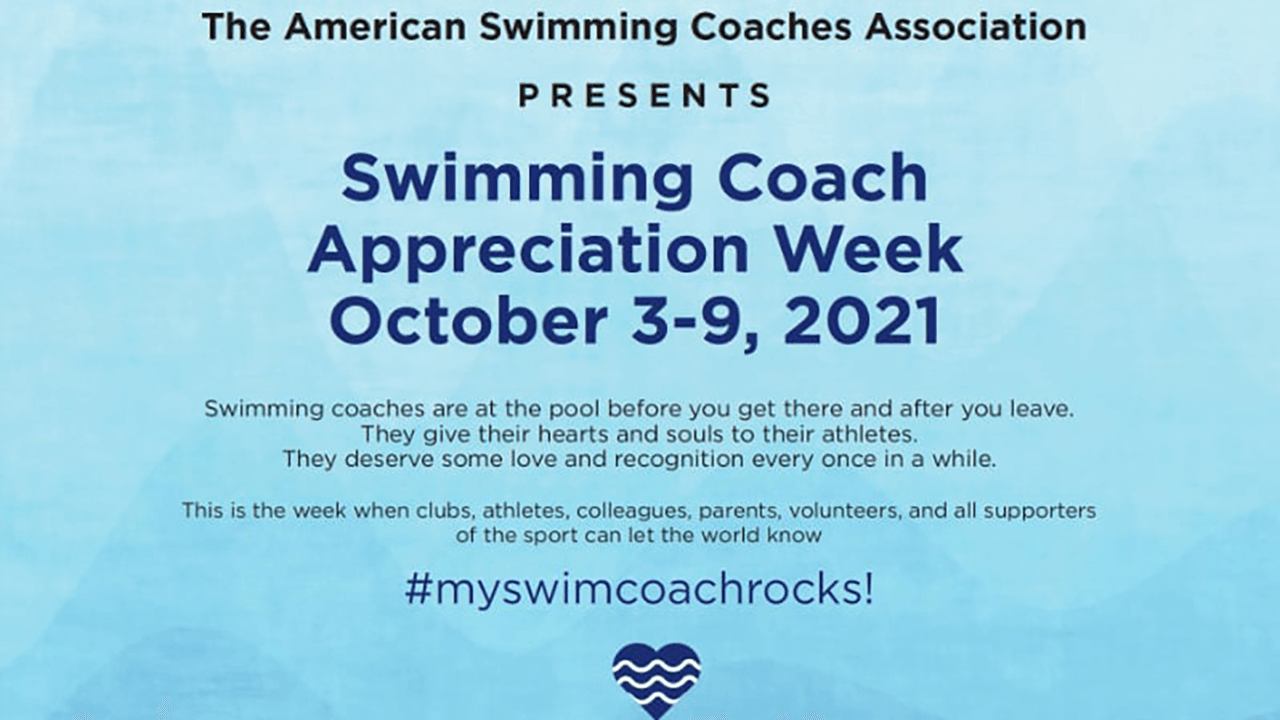 ASCA Presents Swimming Coach Appreciation Week October 3-9
[ad_1]
Benefits for coaches include:
Live Q&A with Coach David Marsh
Free t-shirt for new and old ASCA members
Discount on ASCA World Clinic registration
Swimming-related business promotions
#Myswimcoachrocks Social Media Contest!
Swimming coaches put their heart, soul, time, effort and dedication to supporting their swimmers. They not only make them better athletes, but better people! To celebrate all of their hard work, ASCA presents Swimming Coaches Appreciation Week!
In celebration of coaches, ASCA is providing the following tips for swimmers, parents and teams:
Tips and tricks to show that #myswimcoachrocks!
Write a personalized note, card, letter or poster.
Every day of the week tell your coaches something you enjoy about them
Ask your team to cheer on your coach.
Be positive – having an optimistic and excited attitude in training can make any day better for your coach
Take a moment each day to stop and say "hello, goodbye or thank you"! A few kind words can go a long way!
Take a few minutes before or after training to ask your coach about their favorite swimming memories, such as their favorite swim competition, event, set, or swim.
Treat your trainer to personalized gear – nothing better than a t-shirt or mug with a quote or nickname!
Use #myswimcoachrocks! to show appreciation to coaches on social media. The best publications will win a prize from Swimming World and ASCA!
ASCA and its partners are offering the following promotions, activities and prizes throughout the week to celebrate its members!
ASCA Q&A Live with Coach David Marsh
Always wanted to ask your coaching questions to an elite coach? Want to talk to a coach who has a long track record of success? Be sure to join us for an exclusive ASCA Live member-only event! Coach David Marsh Joins ASCA in Swimming Coaches Appreciation! He will answer all your swimming and training questions! You will have the opportunity to ask questions about training, drills, sets, club management and more! Members: click here to register!
Join ASCA, get yourself a t-shirt!
Want to wear ASCA gear? Now is your chance to win FREE ASCA clothing! Special thanks to all our swimming coaches, any US member who joins or renews their membership during Swimming Coaches Appreciation Week will receive a free t-shirt! Be sure to click here to renew or join October 3-9!
ASCA 2021 Global Clinic Registration – Special Price!
If you haven't had the opportunity to join us in Orlando for the outstanding talks from renowned trainers and experts, we are now offering you access to our ASCA 2021 Global Clinic Registration for $ 119! From October 4e lectures, poolside demonstrations and content will be available for purchase! As a special thank you to all members during Swimming Coach Appreciation Week, the ASCA is offering a special promotional price of $ 99.. Use coupon code COACHWEEK at checkout October 4-9, 2021. After October 9, the regular price of $ 119 will be in effect.
Partner promotions
Many companies will join the ASCA in celebrating Swimming Coaches Appreciation Week! Be sure to check out the following offers starting October 3rd-9e:
Free sample Fog-X with every order from SwimSmartToday
Special Speedo Social Media Content Honoring Swimming Coaches
FINIS – 20% discount on FINISswim.com. Use the code ThanksCoach at checkout.
10% discount on ASCA's latest online training course, "Swimming Strength and Conditioning Specialist Certification School". Use code COACHWEEK at checkout.
50% reduction on the goswim.tv Coach plan
Goswim.tv Coaches Affiliate Program – 20% of each referral and 20% off for their swimmers to access GoSwim – more details here
Social media contest
Post a photo and tag with #myswimcoachrocks! Whoever posts the best photo will win a one-year digital subscription to Swimming World Magazine and an ASCA polo shirt.
The above press release was issued by Swimming World in collaboration with ASCA. For press releases and publicity inquiries, please contact [email protected].
Related
[ad_2]